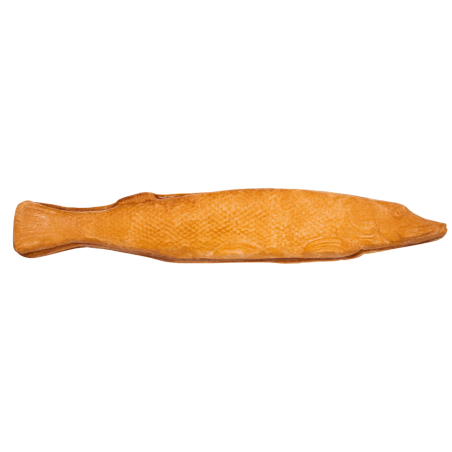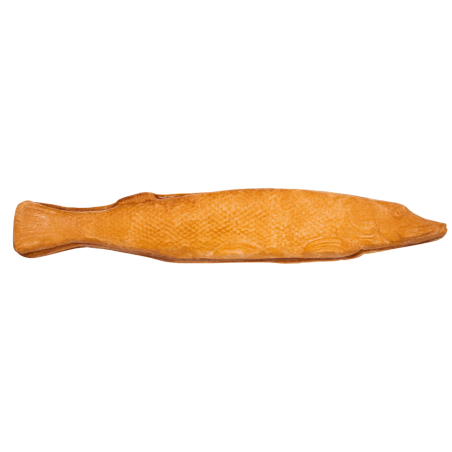  
Gingerbread pike
Gingerbread molded in the shape of a pike, filled with orange jam
This is a traditional gingerbread available only during Easter.
This pike-shaped gingerbread is ideal to serve as a dessert on your Easter tables. It is also eaten on no particular occasion, just for greed.
How to store your product after opening?
- Place the product in a plastic storage bag or an airtight box
- Store it at a temperature between 15°C and 25°C
- Consume it soon after opening
Ingredients: wheat flour (BLE)(Origin: FRANCE), orange jam 23% (fructose glucose syrup, orange (35%*)(Origin: EU)(Origin: EU), sugar, gelling agent (pectins), acidity correctors (citric acid, trisodium citrate)), honey (Origin: EU), invert sugar syrup, EGG yolk (Origin: France, eggs from free-range hens), sugar, baking powders (carbonates sodium, ammonium carbonates), natural lemon flavor, natural anise flavor. *% Expressed on jam.
Possible traces of nuts: ALMONDS
Average nutritional values ​​per 100g: Energy: 1331kJ / 320kcal - Fats: 1.0g of which saturated fatty acids: 0.0g - Carbohydrates: 76.0g of which sugars: 45.0g - fibres: 1.0g - Proteins: 4.0g - Salt: 0.03g.
Net Weight: 250g
NUTRISCORE: C
RECYCLING INSTRUCTIONS: Plastic film + box + sorting bin
No customer reviews for the moment.