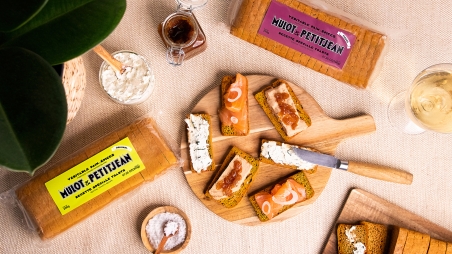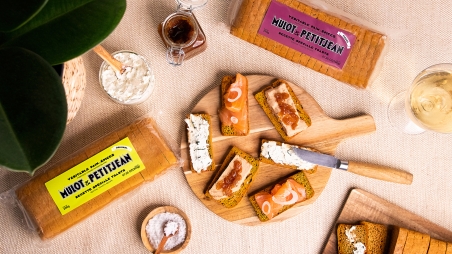  
Dill Toast Gingerbread
Surprise your guests and delight your taste buds with associations based on spice bread.
This special gingerbread toast with dill, sliced ​​and finely spiced dill will sublimate your aperitifs. All of a sudden, your aperitifs will take on flavor.
You will enjoy its true honey taste thanks to this "pure honey" recipe.
The ease of use of this gingerbread (pre-cut and firm texture) and its original taste allow to offer festive, tasty, differentiating aperitives.
The honey pure spice bread special toast to anth will accompany your fish-based aperitives such as smoked salmon, smoked trout, but also tarts such as tarama or tzatziki or goat cheese.
Discover the rest of the range: special spice bread toast nature, seeds and mustard sound, fig, walnut.
Discover all of our recipes ideas
How to keep your product after opening?
Refer to the packaging
Place the product in plastic storage bag or a hermetic box
Keep it at a temperature between 15°C and 25°C
Consume it quickly after opening
Ingredients: honey 44% (EU Origin) , FROMENT flour (BLE)(Order: France), SEIGLE flour (BLE)(Origin: France), OEUFS yellow(Origin: France, eggs from high-air chickens), upright powders (sodium carbonates, ammonium carbonates), aneth
Made in a workshop using: AMANDES, MOUTARDE, NOIX
Average nutritional values per 100g: Energy:1518kJ / 359kcal - Grass matter: 3.5g including saturated fatty acids: 0.8g - Glucides: 74g including sugars: 31g - Proteins: 6.8 g -Salt: 0.302g.
Net weight: 150 g
NUTRISCORE: C
CONSIGNE DE TRI : PLASTIC FILM + ETIQUETTE + TRI
No customer reviews for the moment.